Now a days bathrooms are the most popular part of your home. It doesn't matter that your home is small or big. Your bathroom is popular room where you invest many luxurious and fixtures. Here are some steps which will helps you to design your bathroom.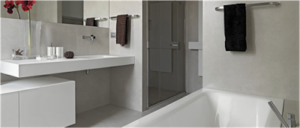 1) Analysis of Space:- Analyze your bathroom and find out how much space you have. Check out crawl space, finished or unfinished basement and how much access to the plumbing and electricity.
2) Budget:- Decide how much you can possibly spend for this project and what it include. Don't think you can configure it yourself, always take help from any potential contractor because they have proper knowledge about things that you never guess. Your contractor will help you to design your bathroom in your budget.
3) Layout:- Next step to think about layout of your bathroom. In this step you need to configure all the things you want to put in your bathroom.
1) Choose the separate space for your toilet and allow a big space for your shower.
2) Make the bathroom and its fixture easily accessible. Research on universal design, which promotes accessible design for everyone.
3) Configure that what space you have and also configure location of window or doors.
4) Lighting is most important part of your bathroom. It should be quite beautiful which will create variety of effect using different kind of fixture.
4) Selecting products for your bathroom:- Your design is almost done, now its time to select the product and material. You can take help of your contractor and check there designs and ask questions that are in your mind. You can also find products online and make a list of your selected products.
5) Building The Bath:- All things are done, now ready to build your bathroom. Decide what type of contractor you need, all companies have their own methods for building. Meet with the contractor and ask all the procedure they use and finalise the finishing date for building your bathroom. Always hire a contractor that you trust and now let them build your dream bathroom.