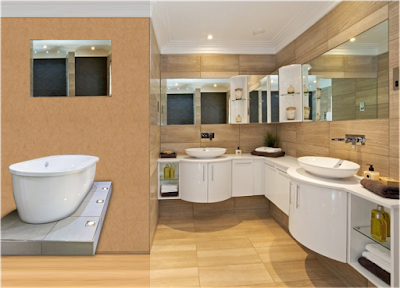 Bathroom is one of the most important place to renovate in the home. If you want to give fresh look to your bathroom, there are many ways which will help you to renovate the bathroom in your budget.
1) Old, cracks or broken tiles let down the look of the bathroom. Changing the old tiles and fixing the concrete with modern designs and techniques will totally change the feel of the bathroom.
2) You can consider regrouting tile, whitening grout and cleaning grout.
3) Remove wallpapers with steamer if your walls are covered with it. Removing all flaked, sticky, dirty areas before paint will help you to provide better look and more reliable for future.
4) Repainting: it will help to transform the bathroom into new style with latest colours. You can opt for simple earthy look with matte texture which is very popular now a days.  Always use contrasting paint to  highlight the area like window sills and cabinet.
5) Remove the dents or broken parts of wood cabinet in your bathroom before painting, staining or varnishing.
6) Maximize the space area for your bathroom so you will be able to put furniture, a soaker tub or any other thing in it.
7) Replace your old hardware i.e. Cabinet, door handles, towel racks and light fixtures with new hardware. You can consider replacing old mirrors with latest ones for better feel.
8) You can replace the linoleum with inexpensive vinyl tiles.
9) If your bathroom has a wooden floor then refurbish it and apply 2 or 3 thin coats of varnish to your floor and it will look brand new again.
10) Instead of buying new wooden trim you can refinish your old wood trim into new.
11) Replace your bathroom accessories like pictures or plaques on the wall, hamper, wastebasket and carpet. New Accessories will uplift your bathroom.
12) You can get ideas of latest trends and styles for your bathroom form magazines or internet.